News from Workflow Designer
Hy,
This time I want to show you some new features from Workflow Designer.
At first if you don't want to read the complete post: Starting with 7th of January I change my prices from included tax to excluded tax, because my partners mention, it is wrong, how I handled it.
And because it is christmas I also create a coupon with 15% discount, which could be used until 31th of December 2016. Enter christmas2016 into the coupon field.
Maybe you decide to try the module for your company. I'm sure you won't regret the decision.
Now to the new features I implement into the module and which could be used by every owner of Workflow Designer for free!
Show Buttons directly within fields
Let us start with something small: Now you could trigger Workflows directly from Fields, where your CRM Users search for information.

In this example (Live version here) it is only a useless workflow, which set a random number into Office Phone field.
But maybe your CRM User search the right button for a specific process. With this option, they could trigger every process directly, where they work.
Also this starts to train your CRM users not to use the sidebar anymore, why they is completely removed in Vtiger 7.
How to use this?

Look at the Frontend Manager. There you could configure workflow to be shown with "Button in Field". There are also other new options to show Workflow Buttons.
Interact with your CRM User during Record Editing/Creation
Now something important, which is really helpful and avoid to buy other more specific modules for single problems.
You are annoyed of your employee, because they set fields to wrong values? Or your employee create Invoices for companies, which are blocked for further sales, because of missing payments? Or more simple you create a Custom Module with Relationship to another module and you directly want's to import some values after selection, like the Billing Address in Invoices from Accounts?
The new "Frontend Workflows" will executed dynamically within the Editing View and could react live on values your users set.
For example, the situation I mention before. You will stop your Users to create Invoices for companies, which are blocked. Or dynamically decide if the Invoice could be created, because maybe a special condition match?
Try to create an Invoice in my demo for the Organization "Blocked Organization". (Link to Demo System) You will then get the following confirm request:

This is done by using a process like this: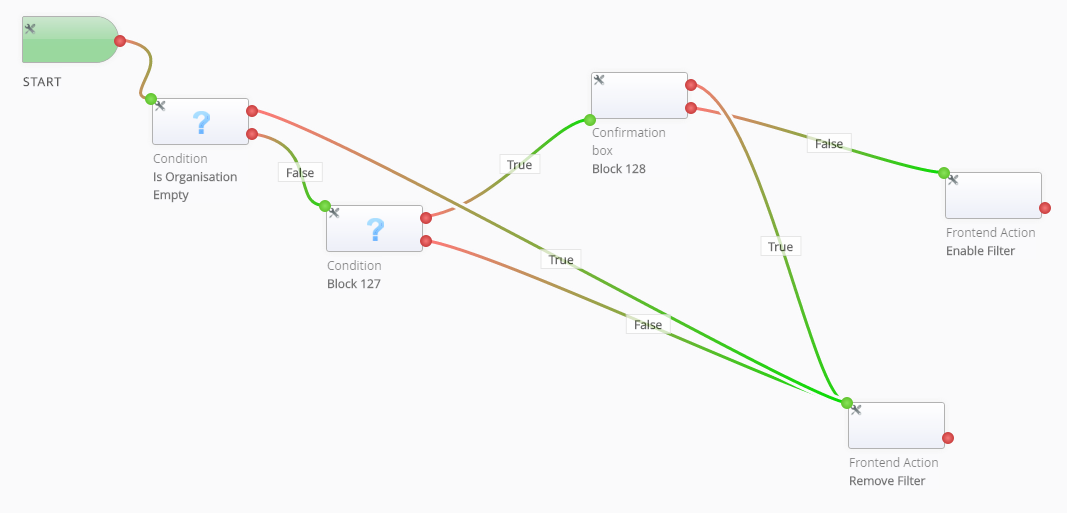 In this example the confirmation only disable some values in picklists based on response in confirmation request. But you also could disable submit button to prevent storage or show Tooltips on some fields.
You could integrate all tasks of default Workflows. For example send a Push Notification to Sales Manager, he needs to contact the Sales person. Because the default "background" Workflows, also could be used you could create another workflows to "accept" such records.
You also could request values during Record Creation to generate new values, the User must set in a specific format. At the moment there are still some limits, but from version to version you get more options with this.
Planned is to transfer environment variables from "Frontend Workflows" to "Default Workflows". So you could set values in background you later could use.
At the moment I research all opportunities you get with this feature. Because creativity with this module is unlimited, I'm sure you found ways to heavily increase the options.
Multiple SMTP Server
Imagine you are using your companies SMTP Server and want's to send a Newsletter to all of your Contacts. I wouldn't do this over your default SMTP Server. You could getting blacklisted.
Why not use another SMTP Server to send the Newsletter? And why not using Workflow Designer for this task? He is doing great with this task.
Check the "Provider Manager" in Workflow Designer sidebar and add a "Mail Delivery Method".
You could set a individual SMTP Server to every "send Mail" task your use.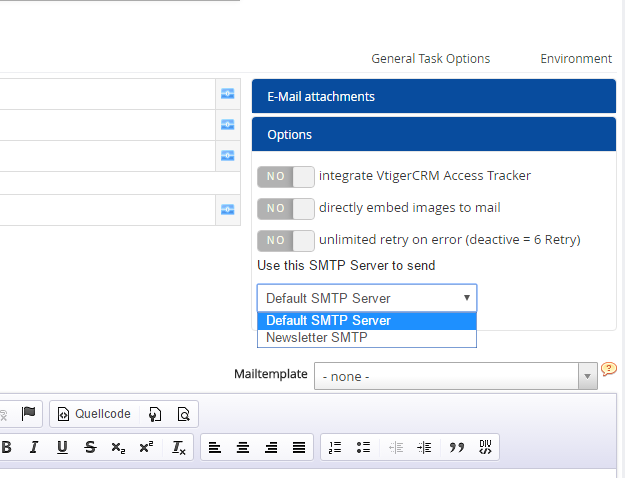 Other new Implementations
I reach the number of 60 different Blocks you could use. Every one completely different.
Some of the new one:
Call AND parse a REST API within VtigerCRM Workflow
Export Records/SQL Query into Excel
migrate Related records
create styled comment output
create styled productlist HTML from Invoices
At least there are more interfaces external developers could use to customize the Workflow Designer or implement own tasks. (Click for Documentation)
I'm happy to talk with you, if you have additional functions you would use. Tasks, which are useful also for other users are implemented for free into Core.
I wish you a merry Christmas and a happy new Year with your family/friends.
We will see in 2017. There are lot's of great projects coming.
Stefan